Business News
Samskip, duisport and TX Logistik will jointly operate the logport III…
페이지 정보
작성자
최고관리자
댓글
0건
조회
49회
작성일

23-05-12 14:05
본문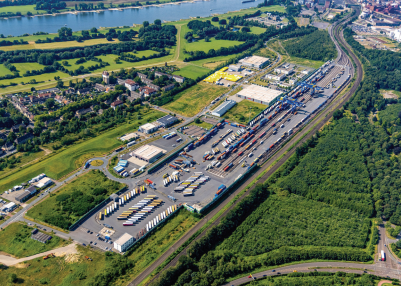 Samskip, duisport and TX Logistik AG will jointly operate the CT terminal at logport III in Duisburg-Hohenbudberg in the future. For this purpose, the three partners have founded the new company "Ziel Terminal GmbH". Samskip will hold 49.8 percent of the shares, duisport and TX Logistik each will hold 25.1 percent respectively. The terminal will be leased on a long-term basis by duisport to the joint venture.
The terminal partnership signed by the three owners is currently still subject to approval by the European competition authorities. Approval is expected in the next few weeks.
The 140,000-square-meter terminal facility in Duisburg-Hohenbudberg has seven transshipment tracks, each 720 meters long, two shunting tracks and two high-performance gantry cranes for transshipment between road and rail. The annual handling capacity is up to 250,000 loading units.
In addition, terminal operations can rely on modern IT and communications technology such as a control tower system for the pre-planning of terminal activities and exception management. Other high standards include high-tech gate functions, OCR scanning for registration, security, order prioritization and truck parking allocation. In addition, various facilities are available, such as cross-docking or railcar repair.
To enter the shareholding structure of the terminal in Duisburg is in line with the provisions of the Fs Italiane Group's Business Plan, presented by CEO Luigi Ferraris last May, Mercitalia Logistics envisages investments of 2.9 billion over the next ten years to foster a major operational and commercial development of the sustainable logistics asset around rail freight traffic both in Italy and Europe.