Business News
KR signs MOU with Microsoft Korea to Collaborate on Digital Transforma…
페이지 정보
작성자
최고관리자
댓글
0건
조회
38회
작성일

23-05-12 14:10
본문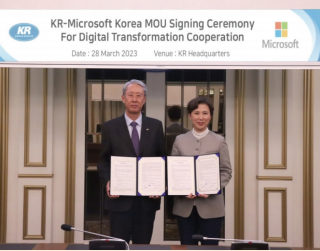 Korean Register(KR) has signed a memorandum of understanding (MOU) with Microsoft Korea on 28 March to collaborate on digital transformation and enhance their technological capabilities, with the aim of leading the digital transformation of the shipbuilding and maritime industry by leveraging fourth industrial revolution technologies.
Through this partnership, a joint working group between the two companies will be established to collaborate on digital transformation projects. It will focus on Cloud Conversion technology, artificial intelligence(AI) technology development, and digital workplace platform upgrades based on Microsoft Azure.
Microsoft's Azure cloud is one of the most widely used cloud providers in the industry, with 95% of Fortune 500 companies implementing digital transformation initiatives using Azure. In Korea, Microsoft offers cloud services with high performance, fast speed, safety, and a high level of security.
Currently, digital transformation through the application of fourth industrial revolution technology is recognized as a global hot topic across industries, and its necessity and demand are increasing. In line with this trend, the shipbuilding and maritime sector is actively applying cloud and AI technologies to achieve autonomous operations and improve ship safety.
KR has proactively pursued 'digital and green' initiatives in recent years to become a 'leading digital classification society'. Through the new partnership, KR will be able to provide digital survey services with AI and stable infrastructure to KR customers.